Abdominal Crunch on Sissel Exercise Ball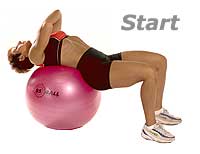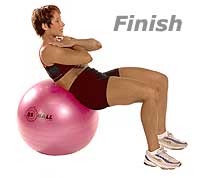 Øvelses beskrivelse:
Abdominal Crunch on Sissel Exercise Ball
Instruktioner:
Lie face up with Sissel Exercise Ball under hips, low back and mid back. With feet on floor, bend legs to 90 degrees and align knees over ankles. Cross arms over chest, hands to opposite shoulders. Move ribcage to pelvis as you lift mid back off ball. Low back and hips remain touching the ball. Release and repeat.
Kategorier:
Abdominal Core, Abs
---
Udstyr benyttet
Model Nummer : 162.031
Balancefit (blå)
SISSEL® Balancefit er et multifunctionelt tænings redskab til forbedring af balance, koordination, styrke og kredsløb • specialformed pigge i to forskellige tykkelser på ståfladen øger kroppens perceptive evne • også egnet til ...
---
Model Nummer : 160.010
Securemax® Trænings Bold - 65 cm (blå-lilla)
Som alle Sissel produkter, så er vores bolde 100% giftfri og fri for ftalater Securemax® Trænings Bolde: • Forbedrer siddestilling, mærkbar aflastning af rygsøjlen • Kan bruges til at sidde på hjemme, på kontoret eller i skolen for at ...
---