Prone Cobra on Exercise Mat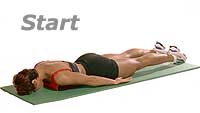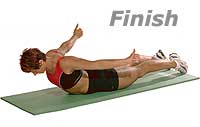 Øvelses beskrivelse:
Prone Cobra on Exercise Mat
Instruktioner:
Lie face down on Sissel Exercise Mat, hands by your hips, shoelaces to the floor. Slowly lift chest and arms off the floor with thumbs up and neutral neck. Squeeze shoulder blades together. Hold 30 seconds or less, according to your ability. Rest and repeat.
Kategorier:
Back
---
Udstyr benyttet
Model Nummer : 200.001
Sissel Gym Måtte
Behagelig, varm, hygiejnisk overflade til din workout! behagelig, varm overflade optimal stød absorberende kvaliteter hygiejnisk, let at rengøre let at rulle sammen og holde sammen med medfølgende elastikker, eller en Gym Måtte bæretaske ...
---
Model Nummer : 200.010.015
Gym Måtte bæretaske
• Handy skulder taske • passer perfekt til SISSEL® Gym Måtte , eller med din egen pilates eller yoga måtte • måtten sælges seperart
---