Prone Cobra on Exercise Mat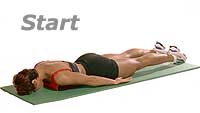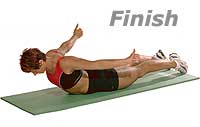 Øvelses beskrivelse:
Prone Cobra on Exercise Mat
Instruktioner:
Lie face down on Sissel Exercise Mat, hands by your hips, shoelaces to the floor. Slowly lift chest and arms off the floor with thumbs up and neutral neck. Squeeze shoulder blades together. Hold 30 seconds or less, according to your ability. Rest and repeat.
Kategorier:
Back
---
Udstyr benyttet
Model Nummer : 200.005
Sissel gym 1.0 Måtte koksgrå
Sissel gym måtte i 1 cm tykkelse fremfor den normale 1,5 cm.  Høj høj kvalitet, fulder mindre og lettere at transportere fra sted til sted. Allergivenlig og ude phtalater Behagelig og varm.  størrelse  180 x 60 x 1,0 cm
---
Model Nummer : 200.010
Professional Gym Måtte med taske
Vores blødere måtte – Optimal balance mellem stød absorbering og tryk fordeling, til gulv øvelser! • Medfølger en handy skuldertaske • glat overflade for nemmere rengøring • hudvenlig, varm • anti-slip, ...
---