Yoga: Starting Egyptian Step. Elbowgrip (1)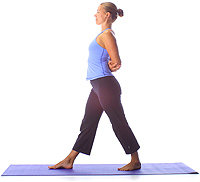 Øvelses beskrivelse:
Yoga: Starting Egyptian Step. Elbowgrip (1)
Instruktioner:
Start in Tadasana mountain pose, walk the right foot forward and step the left foot back. Point both the shoulders and hips forward and grab onto the opposite elbows behind your back. Spread the toes lift the right kneecap up. Push evenly and down through all four corners of the feet, lengthen the spine and softly tuck the chin in to lengthen the cervical vertebrae. Roll the shoulders back and down to open the chest. Take 2 to 5 deep breaths here and repeat on the other side.
Kategorier:
Stretches, Yoga
---
Udstyr benyttet
Model Nummer : 200.001
Sissel Gym Måtte
Behagelig, varm, hygiejnisk overflade til din workout! behagelig, varm overflade optimal stød absorberende kvaliteter hygiejnisk, let at rengøre let at rulle sammen og holde sammen med medfølgende elastikker, eller en Gym Måtte bæretaske ...
---
Model Nummer : 200.010
Professional Gym Måtte med taske
Vores blødere måtte – Optimal balance mellem stød absorbering og tryk fordeling, til gulv øvelser! • Medfølger en handy skuldertaske • glat overflade for nemmere rengøring • hudvenlig, varm • anti-slip, ...
---